Healing Work-Related Lift Injuries with a Chiropractor
Healing Work-Related Lift Injuries with a Chiropractor
Written By Gulf Coast Injury Center on April 29, 2021
---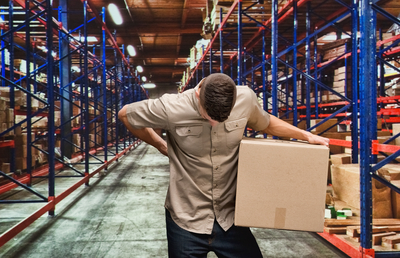 In the United States, a worker is injured on the job every seven seconds. That's 12,600 injuries a day and an estimated 4,600,000 injuries each year. Thirty-three percent of work-related injuries that result in lost workdays are related to overexertion, lifting or lowering, and repetitive motions.
Lift injuries can cause mild to severe back pain. Almost 30 percent of Americans experience pain in their lower back, and back pain has become the leading cause of disability worldwide. If you've experienced lift injuries, it's essential to seek work injury treatment right away to get on the path to recovery. If you intend to acquire legal counsel for your work-related injuries, seeing a doctor beforehand may also help your case.
Chiropractic Work Injury Treatment Options
Treatments for lift injuries are not one size fits all. Work injury treatment is tailored towards each patient based on their symptoms and the lifting injuries they've sustained. However, work injury treatment plans may include chiropractic services such as:
Spinal adjustments
Physical therapy
Target stretches and exercises
Soft tissue therapy
Massage therapy
Home instructions such as activities or positions to avoid, home exercises and stretches, and heat or ice applications
Chiropractic Work Injury Treatment Near Me
Lift injuries can cause acute or chronic pain, stiffness, inflammation, and loss of your range of motion. If you've been injured at work, chiropractic work injury treatment provides a holistic approach that will help you on the path to recovery. Receiving work injury treatment right away can also reduce the risk of further injury or chronic pain.
The Gulf Coast Injury Center team is committed to providing patients with a treatment plan that targets the source of painful symptoms. Your first visit will include a consultation, a discussion about your medical history, and a physical exam. Severe or complicated cases may require imaging to rule out serious conditions and aid in developing the most effective work injury treatment plan. In many cases, same-day treatment is available, including soft tissue therapy, physical therapy, and spinal adjustments.
Do you need work injury treatment? Have you suffered from lift injuries? Contact us today at (813) 258-6051 or schedule an appointment online to get on the path to recovery.

Posted In: Chiropractic Lifting Injury Treatment