When Is a Stiff Neck More Than Just a Stiff Neck?
When Is a Stiff Neck More Than Just a Stiff Neck?
Written By Gulf Coast Injury Center on August 30, 2021
---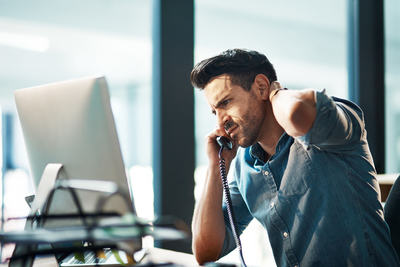 Neck stiffness isn't always from sleeping wrong or something equally mundane. Many times it's a symptom of an underlying issue that needs more than a bit of rest; it's time to get looked at by a chiropractor.
We at Gulf Coast Injury center in the Tampa area want to help you differentiate between when it's time to get looked at from when it's not.
Treat the Cause and Not Just the Symptoms of a Stiff Neck
Rest can relieve symptoms but not always the cause, which is often a spine out of alignment. Your neck is a complicated piece of anatomy that can easily sustain injury. You need to see a chiropractor if:
It's been more than a few days and your neck still hurts

You can't turn your head without a great deal of pain

You develop numbness or tingling in your hands

You were in a car accident

You regularly wake up with neck pain
After thorough examination, we can carefully get your neck realigned. We will also ask questions about your lifestyle to address the possibility of any activities (or lack thereof) making you prone to neck stiffness and injury. Lifting and various repetitive motions put a strain on your neck. We can help advise you and provide appropriate physical conditioning to help protect your neck.
Seek Chiropractic Care for Your Stiff Neck in Tampa
Gulf Coast Injury Center has 5 locations in the Tampa area. We are a large team that applies teamwork to patient care. We all take time to get to know all of our patients so we can take good care of you no matter which office of medical professional sees you.
Have questions or need to get yourself checked out? Call us at one of our five convenient locations or go online and fill out a contact form. Se habla español.
Brandon/Riverview: (813) 626-2311
North Tampa: (813) 253-3111
South Tampa: (813) 258-6051
Trinity: (727) 937-9726
Palm Harbor: (727) 500-1648

Posted In: Neck Pain Chiropractic Stiff Neck