The Risks of Not Receiving Treatment for Whiplash
The Risks of Not Receiving Treatment for Whiplash
Written By Gulf Coast Injury Center on March 29, 2021
---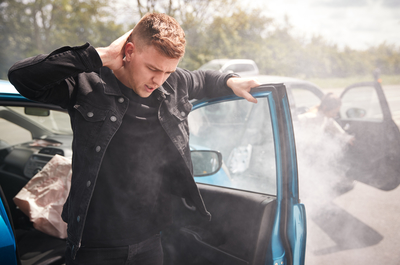 There were 6,734,000 accidents reported in the U.S. in 2018, with 1,894,000 of those accidents resulting in an injury. Motor vehicle accidents account for 45 percent of all neck and back pain and 37 percent of all chronic spine pain. Auto accident injuries can be serious. Some injuries are apparent and present themselves immediately. Other injuries, such as whiplash, may not show symptoms until days or weeks following an accident.
If you've been involved in an accident, it is crucial that you seek auto injury treatment right away to avoid chronic pain, stiffness, and loss of your range of motion.
What is Whiplash?
Whiplash is a neck injury characterized by a collection of symptoms such as:
Pain and stiffness in the neck, shoulders, or back
Frequent or persistent headaches
Dizziness
Numbness in extremities
Sleep disturbances
Fatigue
Difficulty remembering or concentrating
Loss of range of motion
Whiplash is one of the most common motor vehicle accident-related injuries. It is caused by abrupt forward and backward jerking motions of the head. The symptoms of whiplash can be delayed after the initial damage occurs and can worsen over time.
Chiropractic Auto Injury Treatment Options
Chiropractic whiplash treatment is a crucial part of recovery that reduces painful symptoms and helps prevent chronic stiffness and pain. Without treatment, whiplash symptoms can worsen and become lifelong problems. Your auto injury treatment plan may include chiropractic services such as:
Chiropractic adjustments
Physical therapy
Targeted stretches and exercises
Massage therapy
Finding Whiplash Treatment Near Me
Receiving whiplash treatment right away can be critical in preventing chronic pain and stiffness. The Gulf Coast Injury Center team is committed to providing auto injury treatment plans that target the source of your pain, stiffness, and inflammation.
Your first visit will include a medical exam and a discussion about your medical history. In severe cases, imaging may be taken to help develop the most effective treatment plan. Same-day treatment is available in most auto injury treatment cases.
Do you need whiplash treatment? Don't wait and risk chronic pain. Contact our office today at (813) 258-6051 or schedule an appointment online to get started.

Posted In: Chiropractic Auto Injury Whiplash