Chiropractic Care for Shoulder Blade Pain
Chiropractic Care for Shoulder Blade Pain
Written By Gulf Coast Injury Center on May 28, 2021
---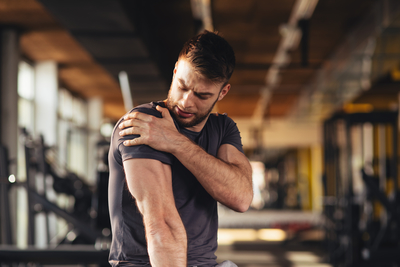 Around 22 million Americans visit a chiropractor each year for back pain, muscle strains, accidents, and more. Chiropractic care provides a holistic, non-invasive approach to treatment that can help patients avoid chronic pain and surgical options.
Shoulder blade pain can be caused by injuries or more insidious sources such as poor posture and overuse. Understanding the underlining cause of your symptoms will help you avoid further damage in the future.
3 Common Causes of Shoulder Blade Pain
Shoulder blade pain has numerous causes, but here are the three common causes of shoulder blade pain.
1. Poor Posture
Improper body alignment is bad for your health. Having poor posture results in excess strain placed on your muscles, joints, and spine. Poor posture can cause pain and stiffness, and it can increase the likelihood of an injury.
2. Lifting Injuries
There are a reported 4,600,000 work-related injuries each year in America. Thirty-three percent of these injuries are related to overexertion, including lifting or lowering heavy objects. Following proper lifting techniques and taking frequent short breaks can help reduce your risk of an injury.
3. Overuse
Overuse can lead to painful ligament sprains and muscle strains. This form of injury may be caused by exercise, work activities, and repetitive motions. Like work injuries, it's essential to take frequent breaks or break up your routine to avoid overuse.
Chiropractic Shoulder Blade Pain Treatment Options
Chiropractic care is an effective shoulder blade pain treatment option that helps patients avoid invasive and surgical procedures. Depending on the cause of your injury, your shoulder blade pain treatment options could include:
Chiropractic adjustments
Physical therapy
Targeted stretches and exercises
Soft tissue therapy
Massage therapy
Finding Chiropractic Shoulder Pain Treatment Near Me
Shoulder blade pain can be caused by injuries, poor posture, overuse, improper lifting techniques, and more. Chiropractic care is a non-invasive shoulder blade pain treatment option that prevents chronic pain and treats symptoms at their source.
The Gulf Coast Injury Center team is committed to providing patients with individualized shoulder blade pain treatment plans. While same-day treatment is available in most cases, your first visit will also include a consultation, medical history overview, and a physical examination.
Are you seeking shoulder blade pain treatment? We can help. Contact our office today at (813) 258-6051 or schedule an appointment online to get on the road to recovery.

Posted In: Chiropractic Shoulder Pain