Can a Chiropractor Help with Sports Injuries?
Can a Chiropractor Help with Sports Injuries?
Written By Gulf Coast Injury Center on October 30, 2021
---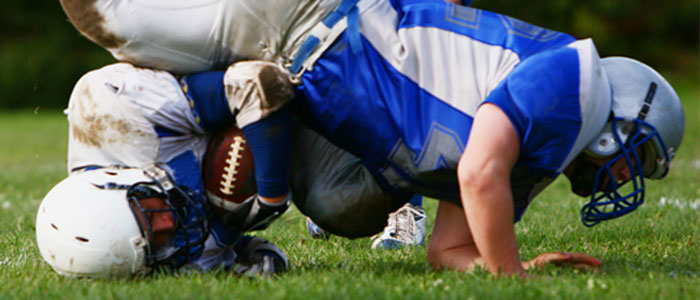 Whether you're a weekly runner or a pro who plays high-impact sports regularly, you are susceptible to injury. Even a mild injury can throw you off your game, but a more serious one can stop you from playing for good.
If you have a sports-related injury, especially to your neck or back, your best bet is to contact a sports chiropractor. Chiropractors are trained to identify and correct both traumatic and repetitive sports injuries.
If you are in the Tampa area and recovering from an injury, consult our sports chiropractors at Gulf Coast Injury Center to see how they can lessen your pain and help you get your body back in shape.
Traumatic and Repetitive Sports Injuries
Traumatic injuries are those that happen during a sports activity or while actively training for that activity, like colliding with another player. These injuries often result in painful conditions like fractures and sprains. Repetitive injuries are incurred over time – sometimes weeks or months. These usually stem from improper training techniques that are practiced over and over again.
Pain from these injuries is usually slower to appear, but repetitive injuries can be just as dangerous as traumatic injuries. Chiropractors are skilled in alleviating the pain caused by traumatic and repetitive injuries and correcting the underlying issues.
What Can a Sports Chiropractor Do for My Injury?
Chiropractors have a variety of tools to aid in recovery. The first step, however, is proper diagnosis. At Gulf Coast Injury Center, our clients undergo extensive testing, including X-rays, to determine the nature and extent of their injury. Then, the chiropractor creates a treatment plan.
Depending on your condition, your treatment plan could include spinal adjustments, physical therapy, deep-tissue massage, nerve stimulation, or other chiropractic techniques. If you have a repetitive injury, your chiropractor will also work with you to develop training plans that help you avoid similar injuries in the future.
Sports Chiropractors at Gulf Coast Injury Center
Residents of Tampa choose Gulf Coast Injury Center to take care of their sports injuries because we have a track record of years of service providing excellent treatment. Our experienced chiropractors can help you make the best decisions for your health to help you get back out onto the field, pitch, track, or wherever you play your favorite sport.
Schedule an Appointment for Sports Chiropractic Care
Don't let an injury force you to give up on your sporting dream. Schedule an appointment at one of our locations in the Tampa area to speak with our experienced chiropractors and get yourself back in great shape.

Posted In: Chiropractic Massage Therapy Sports Injury X-Rays Physical Therapy Nerve Stimulation